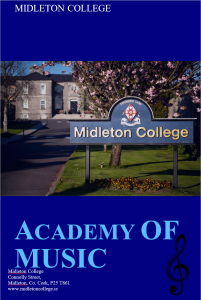 Midleton College Academy of Music
The Academy of Music at Midleton College
Midleton College, one of Ireland's oldest secondary schools, has a rich musical tradition that has been preserved and nurtured for over three centuries. In 2021, the establishment of The Academy of Music at the College was a natural progression, embracing this strong musical heritage while adapting it to the context of modern society.
Our goal, in accordance with our school ethos, is to provide students with a comprehensive musical education. We seek to cultivate an environment where confidence is forged through active engagement, exploration, and experimentation across a broad spectrum of musical mediums.
Music Scheme
Midleton College offers a plethora of instrumental and vocal lessons accessible to all students. Students receive 26 lessons of 30 minutes each during the school year, delivered by our devoted musical team.
String Studies: Violin, Viola, Guitar, Bass Guitar, Ukulele
Keyboard Studies: Piano/Electric Keyboard, Organ
Percussion Studies: Drums
Vocal Studies: Popular Singing, Classical Singing, Musical Theatre
Woodwind Studies: Clarinet
Music Tuition
Individual Instrumental Lessons (30 min per week) are priced at €300 per term or €600 per year.
Form I Scheme
Encouraging imaginative and exploratory development, all students entering into Form I may avail of complimentary music tuition under the Lets Play Music Initiative. Students receive a weekly lesson of twenty minutes in one instrument of their choice. Lessons are conducted by our committed tutors and can be one-on-one or in a group setting. The instruments offered for the 2023/24 school year include: Violin, Viola, Guitar, Bass Guitar, Ukulele, Drum Kit, Piano/Electric Keyboard, Clarinet, Recorder, Tin Whistle, Saxophone, Voice.
Ensemble Music
We encourage all students within the wider school community to showcase their musical talents and perform at every opportunity, whether it be in the classroom, during weekly Friday assemblies, or at formal events such as annual carol services and concert evenings.
Orchestra: Open to all students who play an orchestral instrument, with weekly rehearsals during school hours. The orchestra performs at the annual school awards day and provides musical accompaniment for the school choir at various events.
Rock Bands: With a focus on collaboration and creativity, our rock bands allow students to express themselves through contemporary music genres. These groups rehearse regularly and have opportunities to perform at school events.
Choir: The College Choir, under the direction of Dr. Ian Sexton, meets weekly during school hours. An integral part of the school community, the choir performs at ceremonies and services and participates in competitions and music festivals throughout the academic year.
Competitions
Midleton College Feis: Established in 2022, The Midleton College Feis provides a platform for young performers to showcase their technical ability across a range of musical genres from Classical studies to Musical Theatre and Popular Music.
Wesley Music Competition: Students have the opportunity to compete against their peers from other schools, honing their skills and gaining valuable performance experience.
Drama
Drama Club: Explore the world of acting, directing, and stage production with our Drama Club. Participate in performances, workshops, and creative expression.
School Musical: Midleton College boasts a long-standing tradition of musical theatre, with past performances and students recognized at the AIMS Musical Theatre Awards. Recent performances include The Producers, Singing In The Rain, School of Rock, and WestSide Story. Auditions take place in September, with weekly rehearsals leading up to the live production in early December.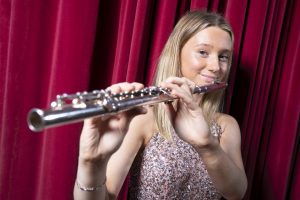 Midleton College is thrilled to celebrate the remarkable achievement of our talented alumna, Eimear Boyle, who has been awarded the Quercus College Scholarship by University
Read More »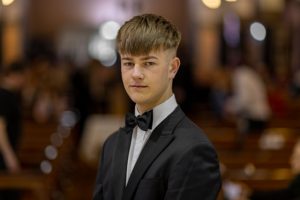 n the heart of Cork City, within the sacred walls of The Lough Church, something extraordinary echoed on Spy Wednesday of Holy Week. As the
Read More »

This week on the Midleton College podcast, we were honored to sit down with the incredibly talented singer-songwriter and former Midleton College student, Jonathan Tinne.
Read More »