The Midleton College Archive contains a number of texts, pictures and memorabilia that tell the story of the school over the past 300 years.  The archive was maintained by Paula Stead and recently by the late Siobhan Delaney.  Siobhan did much work cataloguing and expanding the archive as well as doing extensive research to remember those from the College killed in World War I.
The College is always interested in hearing from past students, staff and friends of the school who may have items relating to the history of the school.  Please contact office@midletoncollege.ie if you have any items that may tell the story of Midleton College.
In 2021, following the passing of Siobhan, the College undertook a project to digitise the College archive and make it available to all, far and wide, who wish to explore and learn about the school and its communities history.  This started with the digisation of the College magazines that allow in manner that they may be viewed online and that the text may be digitally searched.  This project continues the work began by Siobhan Delaney; we continue it in her name.
World War I Commemoration
Around Armistice Day the College pauses to remember those lost in World War one.  Central to that remembering is the Roll of Honour of those from the College who were killed.  This was drawn together by Siobhan Delaney with assistance of local historians Eugene Power & Paul Busteed.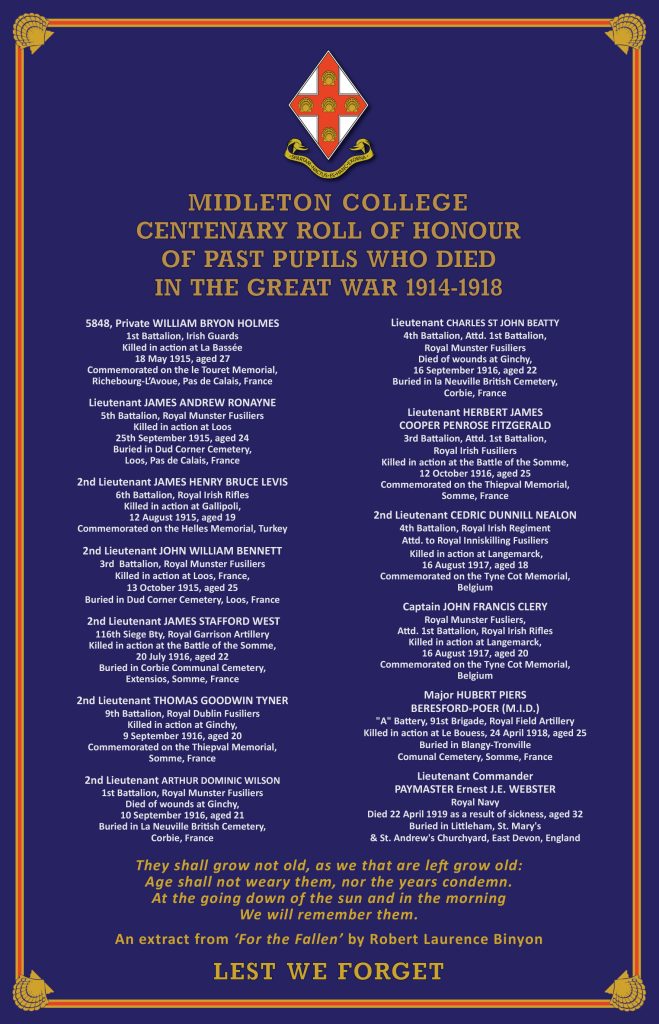 "They shall grow not old, as we that are left grow old:
Age shall not weary them, nor the years condemn.
At the going down of the sun and in the morning
We will remember them."
Midleton College Magazines
The College has 85 different magazines, dating back as far as 1933.  The school magazines have been professionally digitized to an archive standard.  This allows past students, staff or friends of the school to research easily as with OCR each are text searchable.
Click on a Magazine to open