Summary of Junior & Senior Cycle Subjects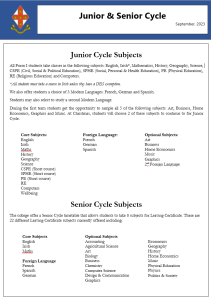 Details on Junior Cycle for Form I Parents
Junior Cycle at Midleton College
Introduction
The Junior Cycle marks the first three critical years of secondary education, usually commencing around the age of 12 or 13. It lays the foundational framework for students' future academic pursuits and personal development. At Midleton College, the Junior Cycle is designed to provide a broad, well-balanced education that fosters intellectual growth, creativity, and essential life skills.
Core Subjects
During the Junior Cycle, students engage in an enriching variety of subjects. At Midleton College, the long courses include the following:
English: Studied at either ordinary or higher level.
Irish: Compulsory, unless the student has a Department of Education Irish exemption. Studied at ordinary or higher level.
Maths: Studied at either ordinary or higher level.
History: A vital part of the curriculum that connects students to the past.
Geography: Helps students understand the world around them.
Science: Provides a solid foundation in scientific concepts.
Languages: Choice of French, Spanish, or German to foster linguistic skills.
Students also have the opportunity to select two subjects from the following options:
2nd Foreign language
Business
Art
Music
Graphics
Short Courses
These courses enhance students' personal development and understanding of their social responsibilities:
Physical Education: For physical well-being and teamwork.
Social, Personal and Health Education: Builds social and emotional intelligence.
Civic, Social and Political Education: Engages students with societal issues.
In addition, students at Midleton College also take classes in:
Computers: For essential digital skills.
Religious Studies: (Form I only) To foster spiritual growth.
Junior Cycle Profile of Achievement (JCPA)
In 2022, the JCPA fully replaced the Junior Certificate, adding a classroom-based assessment to the traditional written examination. This assessment reflects the student's work during the second and third years, culminating in a written examination in June of the third year.
Key Skills and Statements of Learning
Embedded within the Junior Cycle are vital key skills and Statements of Learning that promote critical thinking, creativity, communication, information processing, and problem-solving. These skills are integrated across all subjects, enhancing students' abilities to apply knowledge in real-world contexts.
Assessment and Examination
The culmination of the Junior Cycle is an examination typically taken at the age of 15 or 16. English, Irish, and Maths are assessed at either ordinary or higher level, while all other subjects are assessed at a common level. Classroom-based assessments in the second and third year are recorded on the JCPA, while an Assessment Task completed in Form III contributes to the final evaluation.
Conclusion
The Junior Cycle at Midleton College is a thoughtfully crafted educational experience that nurtures academic knowledge, life skills, personal growth, and social awareness. By offering a diverse range of subjects, emphasizing key skills, and adopting a holistic assessment approach, Midleton College ensures that students are well-prepared for the next phase of their education.
Parents and guardians seeking additional information are encouraged to contact the school's Junior Cycle coordinators.
8 Junior Cycle Key Skills
Eight Key Skills permeate across the entire curriculum. Through engaging with the Key Skills it is expected students will: