The Student Council is an important component of the school.  It Student Council is a representative structure through which students get involved in the affairs of the school, working in partnership with school management and staff and parents for the benefit of the school and its students.
The Council consists of representatives from each class in Forms I-IV and representatives of Forms V & VI.  They are joined by elected members from the previous years Council to provide continuity.
The Student Council meets regularly with school management and also the Board of Management of the school.  They continually advocate for the students and look how to positively improve the school.
They are supported in their work by Ms Laura Guest – Student Experience Coordinator.
Chairperson:
Treasurer: 
Form I to be elected.
2e Ollie Killeen
2o Scarlet Allen
2x David Daly
3e Alex Wade
3o Jack Barry
3x Rachel Forrest
Form 4
Emma O'Neill
Pierce Noonan
Poppy Rix
Sean Curtin
Form 5
Daniel Spillane
Dahlia O'Shea
Frank Dong
Eoghan Smyth
Form 6
India Allen
Lara Dwyer
Kerrie Fitzgerald
Melody Gbadamosi
Anthony McGrath
Hayley Wood David O'Brien, Dylan Sandes, Frank Dong, Poppy Rix, Oscar McGuire, Dan Leahy, India Allen, Alex Wade, Lawrence Noonan, Tommy Cosgrave, Rowan Harte, Emma O'Neill, Róisín O'Sullivan, Cliodhna O'Connor, Colm Smiddy, Krista Jennings, Lauren Jennings, Kerrie Fitzgerald, Aisling Ward, Ava Murphy, Maedbh McGuckin, Phoebe Harold-Barry, Harry Cronin Chairperson:
Treasurer:
Form 2
Tom Killeen, Patrick Dooley and Naomi Moloney Form 3:,Adam Bailey, Ellie Collins and Mollie Lowney Form 4: Rachel O Sullivan, Fionnan Quinlan, Ronan Harte, Tommy Cosgrave Form 5: Charvi Agartala, Rarosue Emakpoe, Aldo Francis, Jonathan Hall Form 6: Ruth Deane, James Butler, Ross Bailey, Sam Spillane, Briain Bailey and Roisin McCarthy Chairperson:
Treasurer:
Secretary: Tommy Cosgrave
Form 2
Adam Bailey, Brendan O' Donnell, Ciarán O' Sullivan
Form 3
Fionnán Quinlan, Thomas Dunne, Thomas Cosgrave
Form 4
Abbey Foley, Edward Hennessy, Johnny Hall
Form 5
Kelvin Adetayo, Róisín McCarthy, Sam Spillane, Lucy Byrne, Briain Baily
Form 6
Christopher Wijnstekers, Cameron Rose, Shirley Bailey, Oisín Rudge, Alex Moore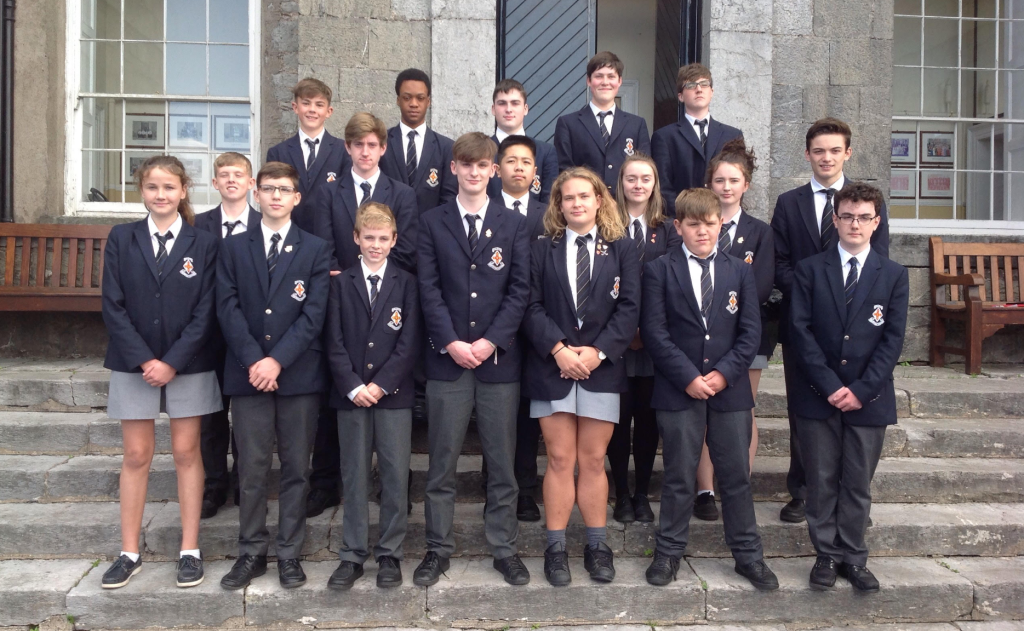 Chairperson: Alice Tierney
Vice Chair: Charley Moore
Secretary: Becky Opperman
Vice Secretary: Alex Moore
Treasurer: Emily O'Hara
Vice Treasurer: Shirley Bailey
PR Officer: Lara Summers Chairperson: Sarah Deane
Treasurer: John Byron
Secretary: Alice Tierney
PR Officer: Ella Roche Perks
John Deane, Daniel J Fadeiro, Robbie O'Mahony, Millie Ryan, Ross Bailey, Briain Baily, Hannah Roch-Perks, Sean Hayes, Oisín Rudge, Tiernan McCarthy, Miji Olu-lkpen, Charley Moore, Rebekah Opperman, Ella Roch-Perks, Dion Cuthbert, Oisín Parsons, Grace Kearns, Adam Nuzum Chairperson: 
Form 2
Ross Bailey, Briain Bailey, Daniel Ojuolape
Form 3
Sean Hayes, Cameron Rose, John Deane
Form 4
Gabrielle Humphries, Charley Moore, Katelyn Manning, Alice Tierney 
Form 5 
Seán Emerson, Óisín Parsons, Julie Ryall, Sophie Johnston 
Form 6 
Edward Cloete, Aoife Dunne, Pádraig Power, Jack Winkworth